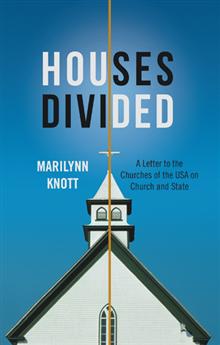 Houses Divided: A Letter to the Churches of the USA on Church and State is now available online at Amazon and Barnes and Noble. (See below for direct access.)
The following is the description of the book from its back cover:
Knott connects the struggles facing modern society on social issues with those faced by Christians trying to apply biblical values to modern life. In Houses Divided, she first sketches the basic tenets of Christianity and responds to the tenets as they relate to society. She then provides a discussion of sin and looks at greed in our culture-how it impacts society, and how individuals and the body of Christ are called to turn away from its enticements. She discusses the place and role of government within the United States. Finally, she suggests a continuum of caring that brings entities together to address providing for the common good and explores some of the sticky-wicket issues-abortion, guns, immigration, and homosexuality-that currently divide Christians.
Sharing personal experiences to help illustrate her vision of a more caring world, Knott makes a clear argument for the importance of applying the broad principles of Jesus's teachings to helping the less fortunate.
The book may be purchased at:
Full Circle Bookstore, 1900 Northwest Expressway, Oklahoma City, Oklahoma
http://www.amazon.com/Houses-Divided-Letter-Churches-Church/dp/1480803677/ref=sr_1_1?ie=UTF8&qid=1387993968&sr=8-1&keywords=Marilynn+Knott
http://www.barnesandnoble.com/w/houses-divided-marilynn-knott/1117436261?ean=9781480803671