Kingdom Building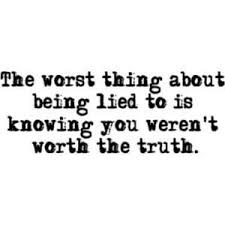 July 17, 2019
Scripture Reading: Psalm 52
Why do you boast, O mighty one,
   of mischief done against the godly?
   All day long you are plotting destruction.
Your tongue is like a sharp razor,
   you worker of treachery.
You love evil more than good,
   and lying more than speaking the truth.
          Selah
You love all words that devour,
   O deceitful tongue.  –Psalm 52:1-4
I was raised in a home where, in my perception, lying was indeed one of the top ten sins maybe even closer to the top than where it is listed in the Bible. Forgiveness and reparations were readily afforded when we told the truth. Failure to tell the truth resulted in greater sanctions. Standing in the corner of a room with my nose pointed toward the wall while I thought about the reason, I had lied was the normal discipline for not being truthful. A tearful apology usually was forthcoming with a promise that I would never lie again. I only remember having to do that a couple of times before the sinful nature of lying was forever seared into my brain. I was even trained well in avoiding those little white lies that might be harmful to others by evading a direct answer. "Do you think my nose is too long?" is answered with "Why would you ask that? You have such a beautiful countenance."
I assume that all children are raised in the same manner and thus am stunned by the prevalence and even worse the acceptance of people not being truthful. It seems that some people almost prefer to lie rather than to tell the truth. I wonder why that is? Are they so lacking in self-confidence that they are ashamed of their truth? And if we are ashamed of our truth how can we love ourselves which is necessary for us to love others?
The healing of our souls starts with the understanding that we are children of God and thus innately people of worth. When and if our life stories differ from what we think are the acceptable values of our world, returning to the understanding that we are unconditionally loved by God is the foundation to learn to live into our truth and enable us to be truthful to others.
Prayer: God of Truth and Mercy, heal our souls so that we never feel the need to lie. Amen.
All scriptures are quoted from the New Revised Standard Version Bible: Anglicized Edition, copyright 1989, 1995, Division of Christian Education of the National Council of Churches of Christ in the United States of America. Used by permission. All rights are reserved.